Are you considering a destination wedding but unsure where to begin? Nepal might just be the perfect global location for your wedding ceremony. This Himalayan nation boasts an incredible wealth of natural beauty, cultural diversity, and historical heritage. With its majestic mountains, including the world's tallest peak, Mount Everest, captivating rivers, serene lakes, lush green forests, and abundant national parks, Nepal is truly a naturally stunning destination.
Furthermore, Nepal is renowned for its unparalleled cultural diversity, embracing Hindu, Buddhist, and various other traditions. Iconic cultural sites like Lumbini (the birthplace of Buddha), Muktinath, Gosaikunda, Khaptad, Pashupati, and Bouddha are of great significance to people following these traditions. Additionally, Nepal boasts numerous historically significant monuments with exceptional artistic value, such as Basantapur Durbar Square, Patan Durbar Square, and Bhaktapur Durbar Square.
Unveiling Nepal: A Perfect Destination Wedding Locale
Nepal, often referred to as the "Roof of the World," boasts a diverse landscape ranging from towering mountains, lush valleys, serene lakes, and ancient temples. This diversity provides an unparalleled backdrop for couples seeking a destination wedding that marries natural beauty with cultural authenticity.
Why to choose Nepal as your wedding Destination ?
Your wedding day is a celebration of love, a culmination of your unique journey together. When it comes to selecting the perfect destination to mark this momentous occasion, Nepal emerges as a captivating choice that promises to weave magic into every moment. From the majestic Himalayas to the rich tapestry of culture, Nepal offers an enchanting backdrop that elevates your wedding experience to unparalleled heights. Let's explore five compelling reasons why Nepal should be your ultimate wedding destination
1. Captivating Venues for a Dream Wedding
1. The Annapurna Base Camp: Imagine exchanging your vows against the majestic backdrop of the Annapurna mountain range. This iconic trekking destination offers a unique opportunity for adventurous couples to celebrate their love amidst breathtaking vistas.
2. Lakeside Beauty in Pokhara: Phewa Lake in Pokhara is a romantic haven, with the tranquil waters mirroring the snowy peaks of the Annapurna range. Lakeside resorts offer an ideal setting for an intimate lakeside ceremony.
3. Timeless Elegance in Kathmandu: The capital city, Kathmandu, is steeped in history and culture. Choose from stunning ancient temples, palaces, and courtyards for a wedding that radiates timeless charm.
4. Chitwan National Park: For wildlife enthusiasts, a wedding amidst the lush jungles of Chitwan offers a unique blend of romance and adventure. Enjoy a safari-style wedding surrounded by exotic wildlife.
5. Pashupatinath Temple: For those with a deep affinity for temple surroundings, we will arrange your wedding within the sacred grounds of Pashupatinath Temple, following Hindu customs. This temple holds immense significance as one of the most revered Hindu temples.
6. Everest Base Camp: A union as breathtaking and enduring as the towering peaks that surround, where love reaches new heights; A new beginning from the moutains will be an unforgettable lifetime experience.
2. Cultural Immersion and Traditions
Nepal's rich cultural heritage provides a myriad of opportunities to infuse local traditions into your wedding celebrations. From vibrant Mehendi ceremonies to Baraat processions through bustling bazaars, you can create a wedding experience that resonates with authentic Nepalese culture.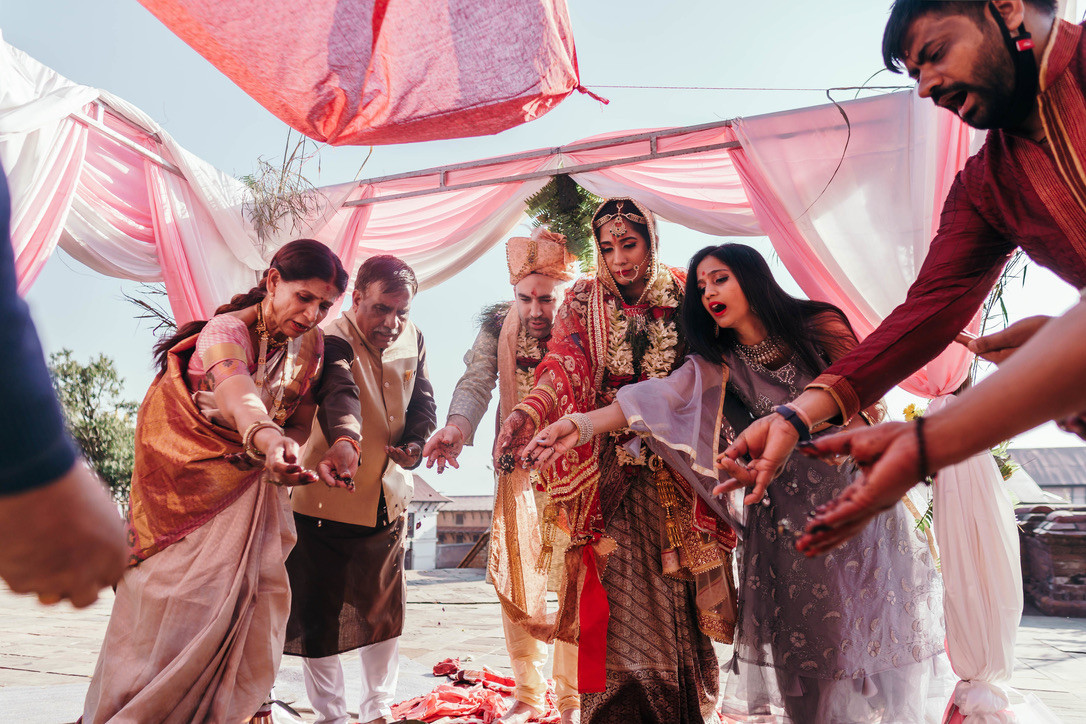 3. Adventure and Romance Unites
For couples who share a love for adventure, Nepal offers a plethora of activities to make your wedding celebrations truly unforgettable. Embark on a sunrise trek to Poon Hill, go paragliding over Pokhara, or take a romantic helicopter tour over the Everest region for an adrenaline-pumping prelude to your wedding day.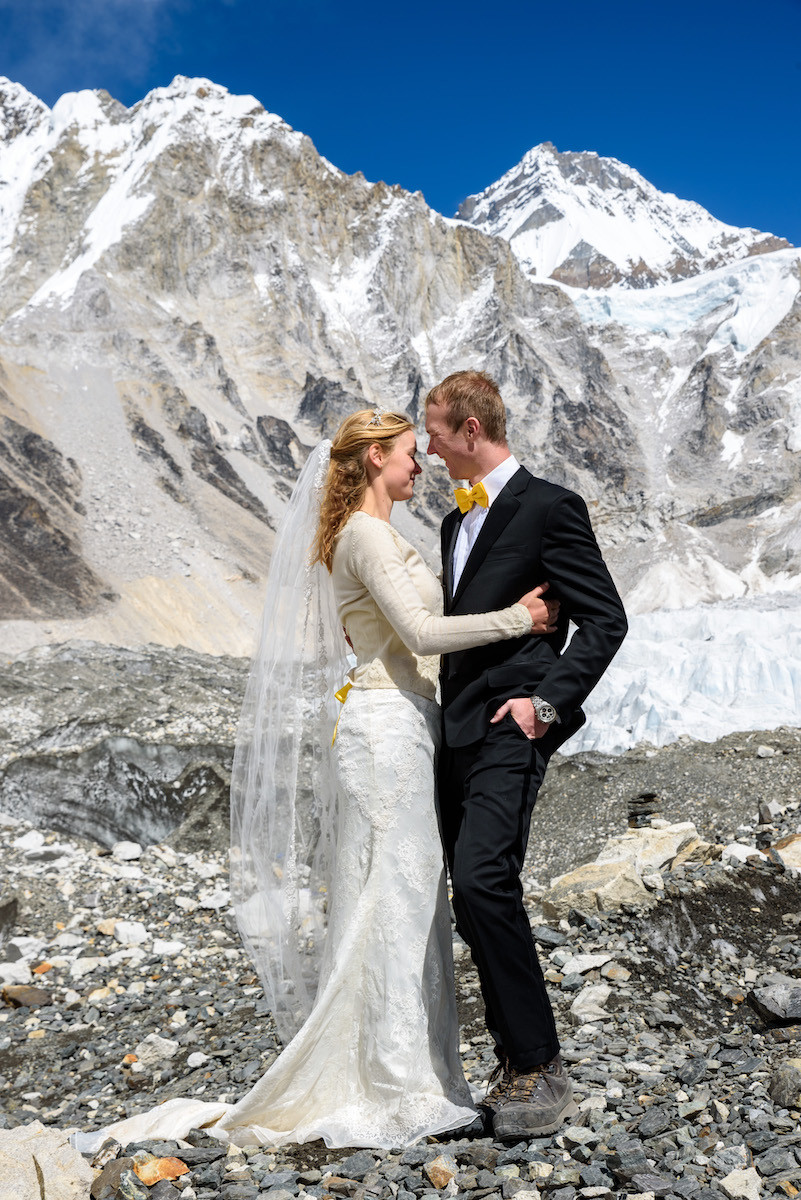 Bride and Groom at the Everest Basecamp for Marriage
4. Planning Made Effortless
To ensure a seamless and stress-free wedding experience, consider enlisting the expertise of local wedding planners in Nepal. These professionals are well-versed in the local customs, regulations, and logistics, ensuring that every aspect of your wedding day goes off without a hitch.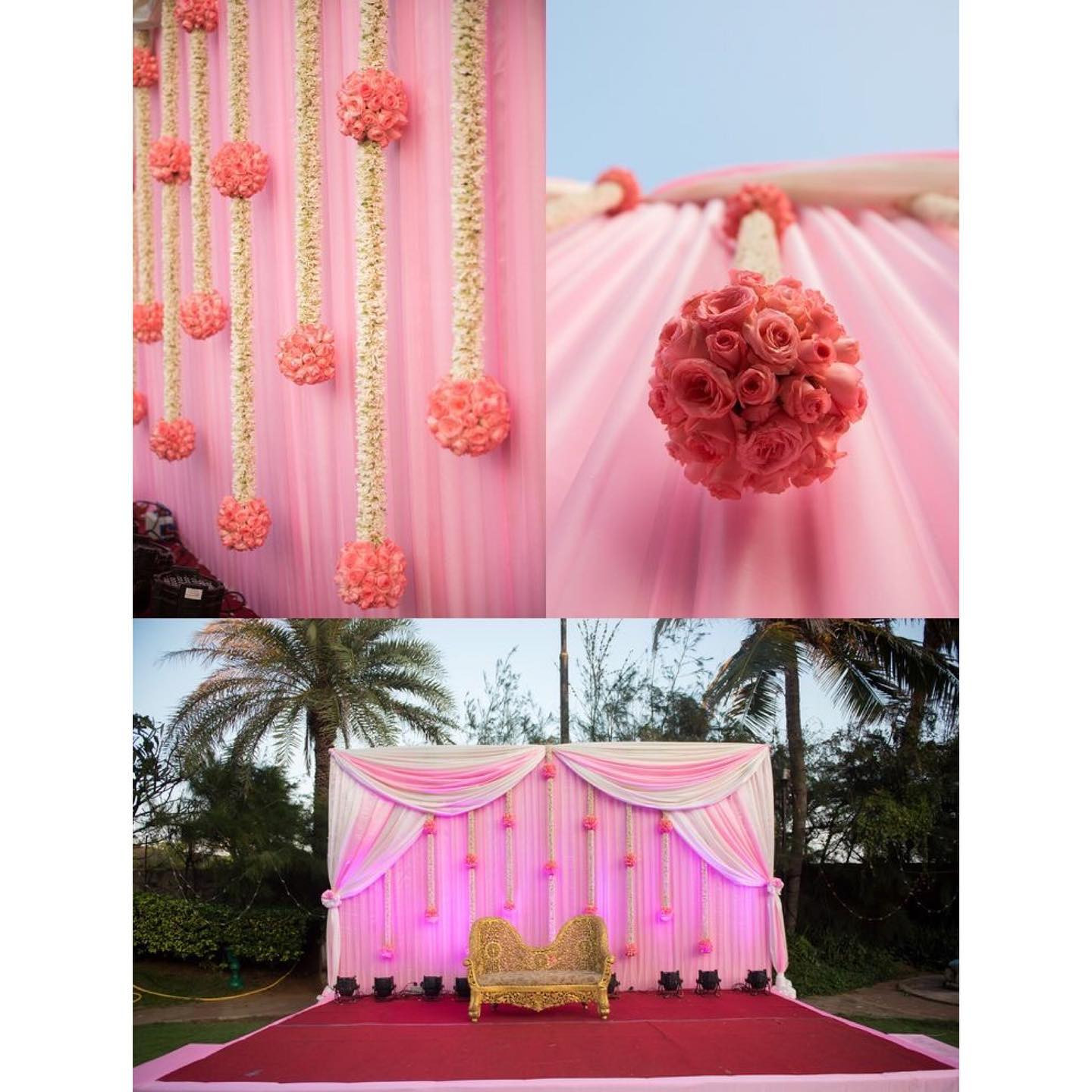 Advantages of Planning Destination Wedding
Stunning Locations: One of the primary attractions of a destination wedding is the opportunity to choose a breathtaking and exotic location. Couples can exchange vows on a Hindu Temple, Buddhist stupa, in a charming villages, amidst mountains, or at any other picturesque locale, creating a memorable backdrop for their special day.

Intimate Atmosphere: Destination weddings often involve a smaller guest list due to the logistical challenges and costs of travel. This can result in a more intimate and meaningful celebration, allowing couples to spend quality time with their closest friends and family.

Built-in Vacation: For both the couple and the guests, a destination wedding becomes a unique vacation experience. Attendees can enjoy a mini-vacation while celebrating the wedding, turning the event into a more extended and memorable celebration.

Memorable Experience: Destination weddings offer a departure from the traditional wedding format, making the experience more memorable and distinct. The setting, local customs, and cultural elements can contribute to an unforgettable event for both the couple and the guests.

Wedding and Honeymoon Combined: Many couples appreciate the convenience of having their wedding and honeymoon in the same location. This eliminates the need for additional travel after the wedding and allows couples to start their newlywed life right away.

Less Stress: Destination weddings can be simpler to plan in some ways, as they often come with wedding packages offered by resorts and venues. These packages can include everything from catering to decor, helping to alleviate some of the stress associated with wedding planning.

Unique Photo Opportunities: The picturesque backdrop of a destination wedding provides unique and stunning photo opportunities. Couples can capture their special moments in a setting that reflects their personal style and preferences.

Flexibility in Traditions: Destination weddings allow couples to be more flexible in incorporating cultural or non-traditional elements into their ceremony and reception. This can lead to a more personalized and meaningful event.
BOOKING PROCEDURE
To book your wedding in Nepal, follow these simple steps:
Contact the Relax Getaways wedding planners to check availability and discuss your requirements.
Choose your preferred package, which can be customized according to your preferences.
Provide the necessary details, such as guest count, menu preferences, photography and videography requirements, and other special requests.
Enjoy the planning process with the help of the professional Relax Getaways' experienced wedding team.
Have a memorable wedding celebration in Nepal