Nepal, a captivating country in South Asia, boasts a diverse geography and rich cultural heritage that offers travelers a unique and fulfilling experience throughout the year. With five major seasons - spring, summer, monsoon, autumn, and winter - Nepal presents distinct and mesmerizing landscapes in each season. From walking amidst vibrant rhododendron blooms in spring to taking in clear views of the Himalayan peaks in autumn, the country never fails to enchant visitors with its natural beauty.
Autumn (September to November) and spring (March to May) are widely regarded as the best times to visit Nepal, particularly for outdoor activities like trekking. During these seasons, the weather is pleasant, with moderate daytime temperatures and comfortable nights. Autumn delights visitors with its clear skies, providing unobstructed views of the majestic mountain ranges. In contrast, spring brings hillsides alive with colorful flora, creating a picturesque spectacle. Both seasons offer optimal conditions for treks and outdoor adventures.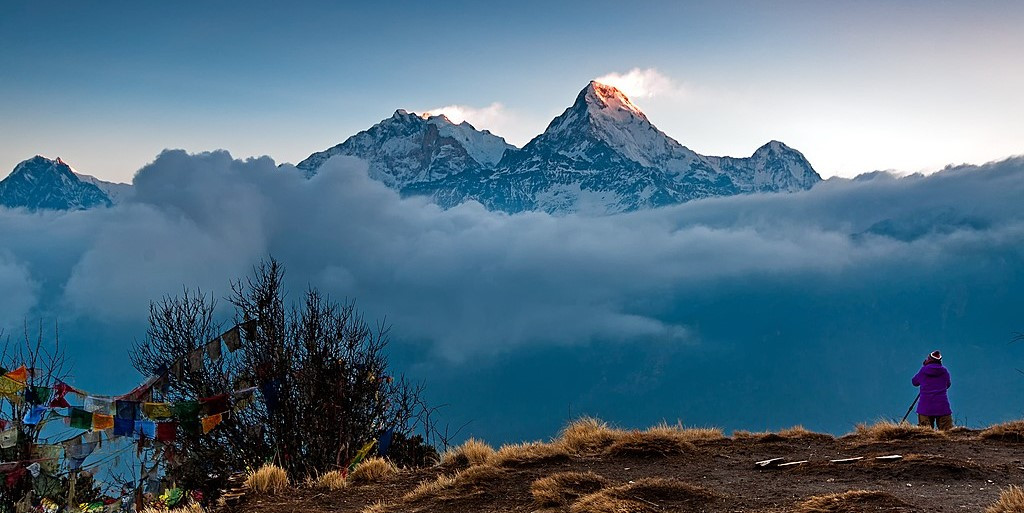 However, even winter and monsoon hold their own allure. Winter showcases a tranquil beauty as snow-capped mountains stand out against the blue sky, making it a perfect time for lower-altitude treks and cultural explorations. On the other hand, the monsoon season brings life to Nepal's lush landscapes, displaying the country's greenery at its finest. With temperatures ranging from 35°C (95°F) at its highest to 1°C (34°F) at its lowest, Nepal provides a diverse range of experiences for travelers interested in trekking, cultural immersions, helicopter tours, or simply savoring the splendor of nature. No matter when you visit, Nepal offers an array of adventures to fulfill your travel aspirations.